LegatoVibrato24
biography
I play guitar and anything you hear submitted here is most likely just me playing guitar over a drum machine and bass. I'm just looking for advice and criticism of the clips of ideas and melodies I may have on here.
2

February 20th, 2006 + 7:02 PM
·

LegatoVibrato24
Just a melody I came up with in class one day while daydreaming of being at the beach. No lyrics, but I harmonized the guitar parts, or tried to at least. I know the playing is sloppy in parts and it's short in length, but please let me know if you like the melody.
Alias:
LegatoVibrato24
Status: Offline
Threads:
1
Posts:
3
Songs:
1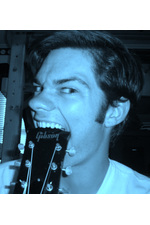 Joined: February 20th, 2006
Last login: February 21st, 2006
My Messengers
| | |
| --- | --- |
| AIM: | legatovibrato24 |
| ICQ: | n/a |
| Skype: | n/a |